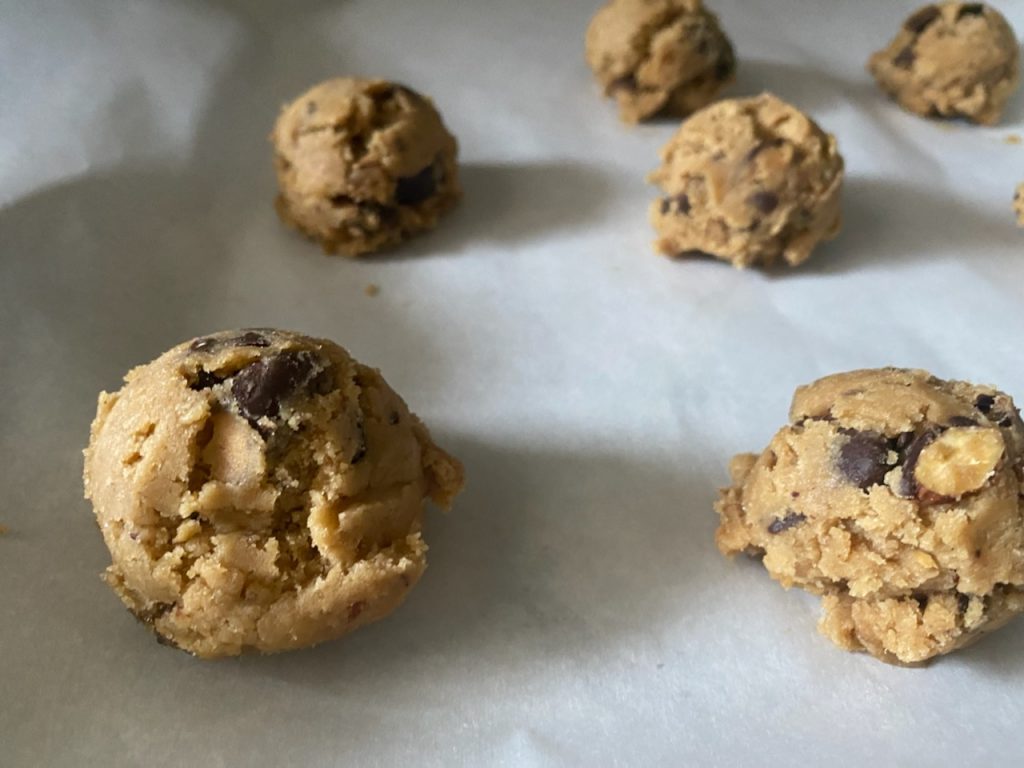 My mom turned 74 this year and that called for a special cookie. Along with @teachameleon, we came up with a cookie that honored my mother's addition to Vanilla Swiss Almond ice cream by Haagen-Dazs. This cookie is an instant favorite in my family's household, so I wanted to share it.
Ingredients
Conceptually, this cookie is a chocolate chip cookie base where we substituted a combination of roughly chopped chocolate covered almonds and 64% cocoa discs from Imperfect Foods.
For the Cookie
Cream together
3/4 cup (1.5 sticks or 170g) unsalted butter, softened to room temperature
3/4 cup (150g) packed light or dark brown sugar
1/4 cup (50g) granulated sugar
1 large egg, at room temperature
2 teaspoons pure vanilla extract
Mix in
2 cups (250g) all-purpose flour (spoon & leveled)
2 teaspoons cornstarch
1 teaspoon baking soda
1/2 teaspoon salt
1 teaspoon baking powder
Mix in or Fold in by hand
1/2 cup chocolate covered almonds, roughly chopped
1/2 cup chocolate chunks
Scoop the cookies onto an parchment lined rimmed baking sheet or however else you like to bake cookies.
Bake the cookies for about 10 minutes in a 350 deg F/180 deg C preheated oven. Let them cool a bit on the baking sheet (about 5 minutes) and then transfer to a cooling rack to cool completely.
Once the cookies are cooled completely – Make the white chocolate dip
For the Dip
Melt about 1/2 a package of of white chocolate chips using either a double boiler or microwave. Tempering the chocolate is not required. Add the seeds from 1 vanilla bean and stir the melted chocolate until the vanilla seeds are evenly distributed. You can thin it out a little for easier dipping by adding a teaspoon or two of coconut oil.
You can dip the cookies in the chocolate or you can do a drizzle, if you prefer. We left half of the cookies plain and the other half dipped so there was variety in batch.